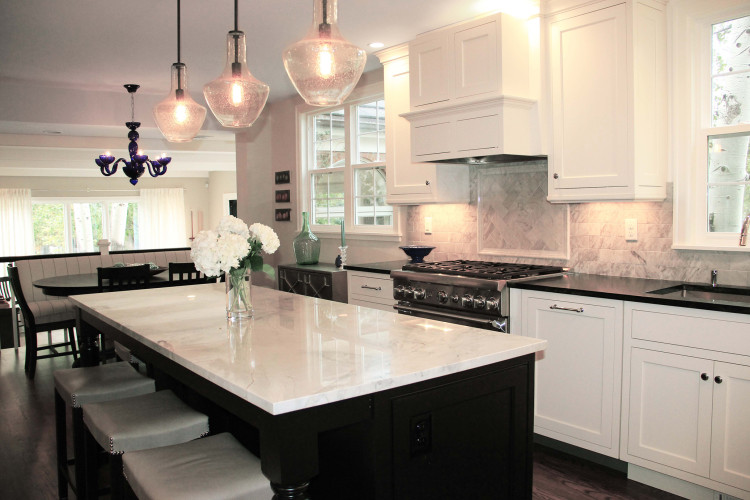 They say that a contractor's own home is often the last to be remodeled! After years of remodeling other people's homes, we finally had the opportunity to redo our own. We packed up the house and moved into the basement for five months for a major renovation that included new flooring, walls, kitchen, baths, etc. on the top two floors.
Now that we're finally finished with the project and moved back in, here are some learnings – from the wife of the contractor – we gained remodeling our home:
1 Have a contingency. We had the project very well planned out and a budget that we wanted to stick to. However, as the project evolved, there were some things we wanted to change. For example, we decided to take out a beam in our kitchen and replace some windows that weren't in the original plan. I think it's important to have a contingency (Dave and Justin recommend 10%) for those things that inevitably come up during a project.
2 Pick out materials as you go, but make sure you leave plenty of time. We didn't select all of our materials prior to the project starting because we wanted to have some flexibility as we saw the space come together. However, in the case of our kitchen countertops, we waited too long. We knew what we wanted, but we had a hard time finding as exact slab we liked. By the time we chose one, we were told it was already on hold for other clients. Make sure you're keeping on top of key decisions so that you don't have a delay in the project. To help with this, we've created a decision chart that provides recommendations on when materials should be ordered.
3 Get help on design decisions.After seeing so many of Dave's projects and spending hours on , I knew generally what we wanted, but there were still so many decisions to be made. We hired a designer to work with on our kitchen and bath plan. She helped us with the layout of the kitchen and with tile selection. These elements really helped to shape our new space. I also had a good friend help with key decisions like lighting and furniture. It was so helpful to have someone to bounce ideas off of. Dave and Justin work with many designers and can recommend someone if you're interested.
4 Get your air ducts cleaned after a major project. After months of living through the construction, I thought the dust would never go away. When the project was completed, we had the house professionally cleaned, but we still had lots of dust. We finally got our air ducts cleaned out and it made a huge difference!
5 Keep smiling! Living through a remodel is not easy, especially if you're staying in the house. There are people constantly trudging through your space and you feel unsettled. It's important to keep a smile on your face and remind yourself that it will all be worth it! And if all else fails, a little retail therapy can sometimes do the trick.